Valorization of residual biomass for advanced 3D materials
The ValBio-3D project will develop efficient technologies for production of sustainable and 100% biobased materials from agro-industrial residues, addressing the bioeconomy of the future, and based on cost-efficient production of biochemicals, bioplastics, biocomposites and tailor-made nanocelluloses. The objectives require a good and well established cooperation between key European and Latin American research institutions, and close contact with relevant industry, which is established in ValBio-3D.
Research on agro-industrial lignocellulosic resources will be of high importance to the European and Latin American community in general.
Hence, this initiative will promote

joint research of high international quality on biomass resources available in Latin America and Europe,

 the appropriate use of agro-industrial waste for creating value added biomaterials,

 novel technologies for structuring biocomposites based on 3D (bio)printing.

environmental benefits of bioresources and their biocomposites.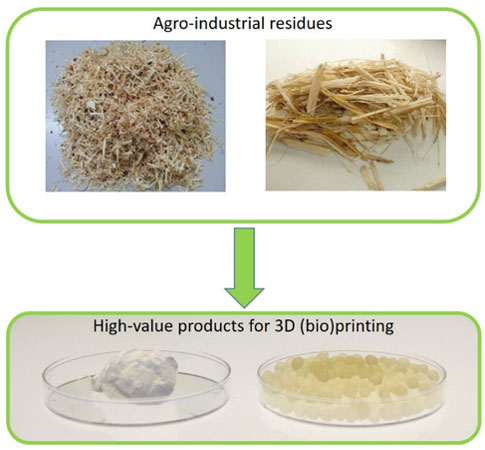 The project is led by Dr. Marí­a Cristina Area. Instituto de Materiales de Misiones (IMAM), Argentina, and has the following partners:
 Instituto de Materiales de Misiones, Argentina. Responsible for WP1 – Raw materials processing, University of la Frontera (UFRO), Chile. Responsible for WP2 – Post-Processing of lignin and hemicellulose, VTT Ltd, Finland. Responsible for WP3 – Production and modification of nanocellulose, Fraunhofer Institute for Wood Research, WKI, Germary. Responsible for WP4 – Biopolymer synthesis, RISE PFI, Norway. Responsible for WP5 – 3D (bio)printing of biocomposites, Pontifical Catholic University of Peru, Peru. Responsible for WP6 – Environmental life-cycle assessment, Biorefinery Santa Ana (SME), Argentina.