Prajin Joseph defended his PhD thesis: "Organosolv pretreatment of Norway Spruce: Ethanol pretreatment for Biorefinery applications" on December 16, at RISE PFI.
The PhD work was carried out both at Department of Chemical Engineering at NTNU with supervision of Størker Moe and at RISE PFI with co-supervision of Mihaela Tanase Opedal.
The first opponent was Professor Martin Lawoko from KTH, the second opponent Päivi Rousu, VP, R&D, IPR from Chempolis Oy and the third opponent and the administrator was Professor Edd Blekkan from NTNU.
We congratulate Prajin with a very well done work both on his trial lecture and the defense!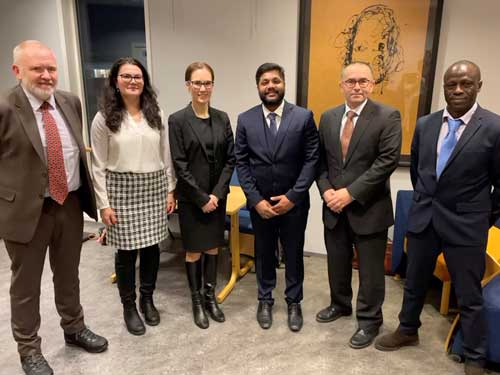 RISE PFI is part of RISE - Research Institutes of Sweden
RISE PFI is and internationally acknowledged research institute within processes and products based on lignocellulose. RISE PFI´s focus areas are Fibre technology and fibre-based products, Biorefining and Bioenergy and Biopolymers and Biocomposites.
Contact
Høgskoleringen 6b
NO - 7491 Trondheim
firmapost@rise-pfi.no
+47 73 60 50 65
Follow us on Linkedin and Twitter