Research Scientist Marianne Øksnes Dalheim from RISE PFI participated in the Assessment Committee of Tuna Baydin's PhD thesis  "Optimization and Further Development of ConCordix Formulation Technology". The defense took place at NTNU, Department of Biotechnology and Food Science on December 16th, 2022.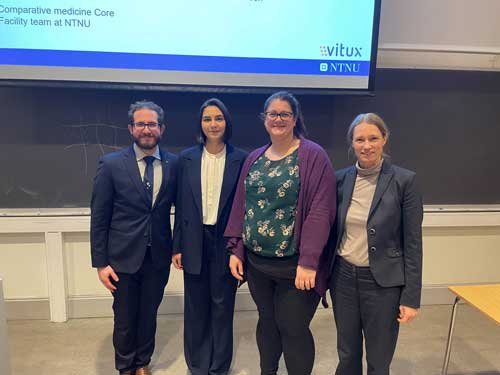 From the left: Associate Professor Gaston Courtade (Administrator, NTNU), Tuna Baydin (the candidate, NTNU), Research Scientist Marianne Øksnes Dalheim (Second Opponent, RISE PFI), Professor Anna Ström (First Opponent, Chalmers University of Technology) RISE PFI is part of RISE - Research Institutes of Sweden
RISE PFI is and internationally acknowledged research institute within processes and products based on lignocellulose. RISE PFI´s focus areas are Fibre technology and fibre-based products, Biorefining and Bioenergy and Biopolymers and Biocomposites.
Contact
Høgskoleringen 6b
NO - 7491 Trondheim
firmapost@rise-pfi.no
+47 73 60 50 65
Follow us on Linkedin and Twitter