A successful bio- and circular economy depends on the deployment of sustainable and commercially viable products, and especially if the value-added products are based on recycling streams or side streams from industrial production. "The ALLOC project (New and innovative processes for flooring and wall products) is a clear example of an initiative in this direction", explains Leif Kåre Hindersland (R&D Manager at Alloc AS, Norway).
The ALLOC project was initiated in 2018, as a continuation of the project ElefantGulv (english: "Elephant flooring"), where strong flooring products were implemented by Alloc AS and launched in the market. "Following a close cooperation with RISE PFI in Trondheim, we decided to continue our investments in Innovation projects for the industrial sector, involving also the Norwegian companies Norske Skog Saugbrugs and Ranheim Paper & Board. In addition, the Research Council of Norway also granted four new years of funding and supported our efforts in the development of innovative products", adds Leif Kåre Hindersland.
The new flooring and wall products contain recycled materials
Alloc AS uses a series of paper grades in their products, including printing paper and kraft paper. Kraft paper is currently made of virgin kraft fibers and is imported from North America, which implies additional costs and an environmental burden when it comes to transport. "In order to improve our products in a sustainable manner, we decided to explore the possibility to use recycled paper and established a close cooperation with Ranheim Paper & Board in Norway", explains Leif Kåre Hindersland.
Ranheim Paper & Board is located close to Trondheim and recycle waste paper from Norway and Sweden. The company currently has a total production of 109 000 tons/year of recycled paper and board products, with the main markets in Europe and Norway.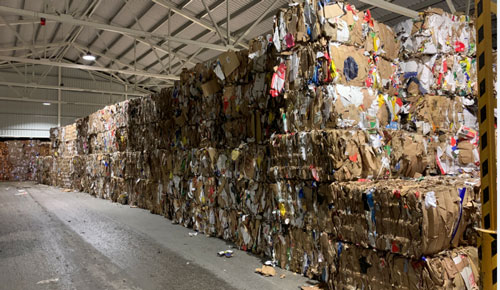 "Ranheim Paper & Board AS has specialized on developing special paper qualities based on recycled fiber material. The paper quality we have developed for the laminate industry has been especially challenging, as it behaves slightly different from the virgin qualities traditionally used in Saturating Base Kraft. Hence, the quality must be tailor-made for each application, in close cooperation with the end customer. Working with Alloc and RISE PFI has been an important milestone in the development, and we are looking forward to continue our cooperation ", Brynjar Svarstad, Development Manager at Ranheim Paper & Board explains. The company is working closely with RISE PFI in order to develop a recycled paper grade that complies with the requirements from Alloc AS. "At RISE PFI we are exploring the current structure and composition of the recycled paper from Ranheim and contributing to the improvement of the performance, considering the requirements for wall and flooring applications. An additional important area is also the development of a lignin-based resin, tailor-made for the components in the ALLOC products", adds Dr. Gary Chinga Carrasco, lead scientist – Biocomposites, RISE PFI.
Towards a circular approach
The recycled paper produced by Ranheim has already been tested and used in wall and flooring products by Alloc. "We need to ensure that the flooring products we launch in the market have the standards set by our company when it comes to mechanical stability, durability and at an affordable price. We expect to produce 3 million m2 of flooring by 2020 and 3-6 million m2 recycled paper will be used as one of the main components in our products. We look forward to continuing our cooperation with Ranheim Paper & Board", explains the R&D Manager at Alloc.
The involvement of industrial stakeholders covering the whole value chain is extremely important when it comes to rapid development and deployment of new products. The ALLOC project has succeeded in involving the right partners, including industry and R&D groups, to secure the development of high-value products based on materials from recycling streams. "Our intention is to close the loop and implement a real circular approach, considering production, installation, collection and reuse in new products", concludes Leif Kåre Hindersland.
Text: RISE PFI